Maria-Fe Parco Ortner, Austria/Österreich
My name is Maria-Fe Parco Ortner, a freelance writer/translator/web designer, and mother of two girls. I'm an Austrian citizen, but I was born and raised in the Philippines. Ten years ago I came as a student to this country, where I later met and married my husband. It's not easy to leave your family, friends, profession and home country behind, and settle down in a strange land called Europe, but I did that. And while I cannot deny my Asian heritage and identity, I believe that this identity needs to be redefined from the perspective of a European citizen. And as a woman and European citizen, I still have much to learn. But where do I go to learn such things? How will I know what my rights are? How can I let my voice be heard, when I speak about my hopes, my fears and my dreams? And who cares enough to know, anyway?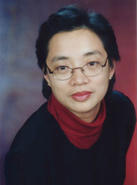 That is why I'm glad this conference is taking place. The world is getting smaller everyday, and migrations will continue to add more diversity to countries and societies everywhere. We need to redefine our roles as women and European citizens from the perspective of diversity.
And this conference will help us find the answers.