Module 2
Feminist Theories
An Approach to Feminist Theories. Histories and Contexts.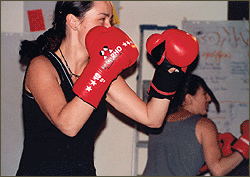 Goals and background
In this module, to be held in Barcelona, our objectives are to introduce and to provide a context to feminist theories. We will look at the hermeneutics of feminist theory, aiming to show how feminism has managed to question the very concept of theory itself. We will then develop and give a background to what we consider to be the most important feminist theories to be taken into consideration. Finally we will introduce the thinking and practice of sexual difference, as Barcelona is an important site of its development. There will be lectures on history and art as a means of showing this thinking in practice today. By the end of the five days the participants will hopefully have the tools with which to situate themselves in their own contexts and will also be able to know how to look into the history and movements of women in their own country.
Content
• Introduction to feminist theory and its history
• Different feminist theories and their developments
• The thinking of sexual difference
• Sexual difference in practice I: history in spain, medieval and contemporary
• Sexual difference in practice II: artists and art history seen from the perspective of sexual difference
Additional content (to be available via e-learning):
• Ecofeminism
• Postmodern feminist theories
• Marxist feminism
• Psychoanalysis and feminism
• Radical feminism
• Lesbian feminism
Working method
After a critical introduction, discussion and review of theories in general – and more specifically feminist theories – various theoretical approaches will be introduced through lectures and encounters.
Space and time will be given to ensure that participants are able to link these encounters with their own situation and questions.
Leadership
The module will be facilitated by
• Dr. Caroline Wilson, Barcelona and
• Dr. Reinhild Traitler, Boldern and will be organised by ewec Barcelona in cooperation with Duoda, the Centre for Women's Studies at the University of Barcelona. Duoda also is the main site for the thinking and practice of sexual difference in Spain.
Among the additional lecturers to be invited will be experts from Italy and Yugoslavia.
Reading list
• Feminist Theory, Josephine Donovan, London and New York, 2001, Continuum.
• Feminist Literary History, Janet Todd, Cambridge, 1988, Polity Press.
• Sexual Difference, Milan Women's Bookstore, Bloomington and Indianapolis, 1990, Indiana University Press.
• Of Woman Born, Adrienne Rich, London, 1977, Virago.
• The Lonely Mirror. Italian Perspectives on Feminist Theory, New York and London, 1993, Routledge.
Useful links
http://www.ub.edu/duoda
http://www.mallorcaweb.net/proleg
http://www.whrnet.org
http://www.women.com
http://www.pangea/xarxafem