Module 1
Telling Her-Story
Biography Work and the History of the Women's Movement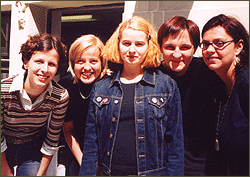 Goals and Background
After WWII, Europe was divided into "East" and "West". In both parts, a serious change of women's and men's roles in all social spheres took place although the background and emancipatory models differed. Experiences of women from postcommunist countries with both ideals and the reality of paternalist-patriarchal state model of socialist equality have been far different from Western societies' women's views.
After the 1989 political changes, Western feminists were highly interested in the position of emancipated women in socialist countries. However, they have been and quite often still are hardly able to really understand and adequately assess women's realities in Eastern Europe.
It was with this background that the Women's Memories project has been developed to grasp the history of women under socialism, in all its complexity and through concentrating on the method of biography work.
Working with biographical narratives thereby proved to be equally helpful to enhance a mutual understanding of women with different backgrounds as the improvement of knowledge about the History of the Women's Movement in different parts of Europe.
The main objectives of this module which is planned to be held in Prague are to encourage women to reflect on their identities and to learn to better understand different cultures, histories and living conditions of women in different countries.
Methods of a crosscultural and crossgenerational dialogue between women will be introduced in order to reduce stereotypes and prejudices towards national, ethnic, cultural minorities and migrants in all European societies.
The module will give the opportunity to discuss emancipatory actions and strategies of women all over Europe belonging to different generations, cultures, nations or regions in different biographical, cultural, social and historical contexts and to develop common strategies to eliminate discrimination against women based on cultural and structural barriers.
Content
Biography Work:
• Introduction to biographical narration
• Comparison of history and her-story on the basis of relevant historic sources and examples of narrated stories
• Introduction to biographical methodology, including different approaches across Europe
History of the Women's Movement in Europe (with specific focus on differences in its development in Western and Eastern Europe after the WWII)
• Introduction to Feminism and Feminist Theories; History of Feminism
• Feminist Theories in the East and the West
• Development of 2nd Feminist Wave in the East and the West
Methodology
The work on women's identities will be based on the biographical narrations of the participants and a joint reflection and conceptualisation of these life stories as it has been methodologically developed within the Women's Memories Project... (see >>> www.womens memory.net).
Inputs about the Women's Movement History will be accompanied by visits of women's NGOs (i.e. Gender Studies, o.p.s. – library, information center and international cooperation) and lectures on the history of Prague from women's perspectives.
Leadership
The modul will be organized and facilitated by Gender Studies, o.p.s. in cooperation with OWEN (Berlin), the Center of Gender Studies (Philosophical Faculty, Comenius University, Bratislava) and the Center of Gender Studies (Faculty of Humanities, Charles University, Prague). Lecturers will include experts from the cooperating organizations as well as women who have been involved for long with the biographical methodology and the Women's Memories project.
Reading list
• Women's Memory: Oral Histories from Transition. Workshop Reader, Budapest, 3.-5.11.2002 (available at Gender Studies, o.p.s.)
• Einhorn, Barbara (1993): Cinderella goes to Market. Citizenship, Gender, and Women's Movement in East Central Europe. London New Edition 2003
• Drakulic, Slavenka (1993): How We Survived Communism and Even Laughed, New York
• Unsere Geschichten mit Sozialismus und Feminismus. Dokumentation eines internationalen Seminars der FrauenAnstiftung Hamburg 1993 (available at Gender Studies, o.p.s.)
• Miethe, Ingrid/Roth, Silke (editor) (2003), Europas Töchter, Traditionen, Erwartungen und Strategien von Frauenbewegungen in Europa
Useful links
• Women's Memories: http://www.womensmemory.net
• OWEN – East-West-European-Women's-Network: http://www.owen-frauennetzwerk.de
• KARAT Coalition: http://www.karat.org